Rims
SMPro rims
At the introduction of SMPro Wheels its goal was to manufacture the best performing aftermarket wheels.
The wheels are configured with the following components:
SMPRo hubs milled out of high quality aluminium.
CWC bulldog stainless steel spokes
Aluminium nipples
SMPro platinum rims
Durable rims for Motocross, Supermoto, Speedway, Grass Track, Pitbikes and even classic/cafe racer restoration.
The SMPRO platinum rims are manufactured out of 7050 T6 aluminium alloy. Available in many sizes, for Cross as well as Enduro and Supermoto.
Available in many color combinations and even effect colors like dual color "fade" and "camo" effect.
Configure your own customized wheel set in our configurator!

Excel Rims
Excel takasago
RK Excel Rims are manufactured out of 7000 series alloy aluminium. And are being used for many years by allmost all professional riders. The RK Excel rims remains the best, strongest and most used rim on the market.
Excel Takasago Rims are the highest standerd in Supermoto, Cross and Endur
Excel motocross rims are designed to perform in the toughest compitions
Rims are available for 65cc motorcycles up to the KTM Adventure 1290.
Made in Japan
Next to the standard black edititon, Excel Takasago rims are also available in silver, gold, yellow and brown without extra cost!
Excel A60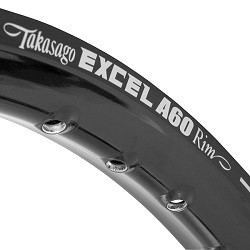 The Excel A60 Strong Rims are 15% stronger then the Excel Takasago Signature Rims, without compromising in weight. Thanks to the v-shaped rim there is less chance of residue build up between the spokes, this results in cleaner rims and less weight build up during even the toughest of conditions. Configure your own wheelset in our configurator!