Blackfriday Actie Motomaster Supermoto Racing kit extreme korting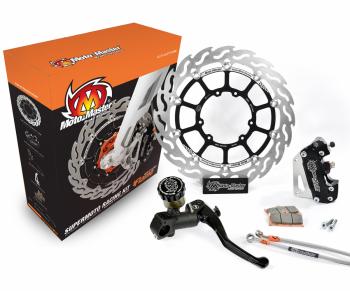 Blackfriday actie Motomaster Supermoto Racing kit
Van €1050 voor €799, alleen op blackfriday!! 23-11-2018
Voor het ultieme stopvermogen voor uw supermoto, hoeft u niet verder te zoeken. De Moto-Master Supermoto Racing-kit combineert alle Motomaster Supermoto-producten in één keer. Deze kit is speciaal ontwikkeld voor Supermoto-races. Nu verkrijgbaar met remschijven in de afmeting 300 mm of 320 mm.
De kit bevat:
Flame Supermoto Racing Disc (300 mm of 320 mm)
4-zuiger gefreesde remklauw
Gefreesde remklauwadapter
12 mm radiale hoofdcilinder en -hendel
Supermoto roestvrij gevlochten remleiding
SinterPro Racing GP remblokken
Te bestellen via ons contactformulier.