Geweldige kleuren combinatie Supermoto wielen goude naaf met blauwe velgrand!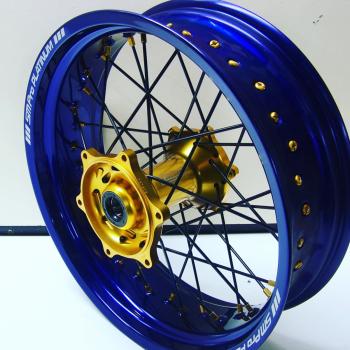 Geweldige kleuren combinatie supermoto wielen!
Goude Talon naven met met SMPro blauwe velgranden.
Talon gouden naven.
Bulldog zwarte RVS spaken.
Gouden nippels.
Blauwe SMPro platinum velgen.
16.5x3.50 of 17x3.50 voorwiel.
17x5.00 achterwiel.
Incl lagers, afdichtingen en afstandsbussen.
Mocht u uw unieke Supermoto wielen zelf samen willen stellen neem dan een kijkje in de unieke configurator of bij vragen neem contact met ons op!