Wij bouwen u cross of enduro wielen om naar een Supermoto set!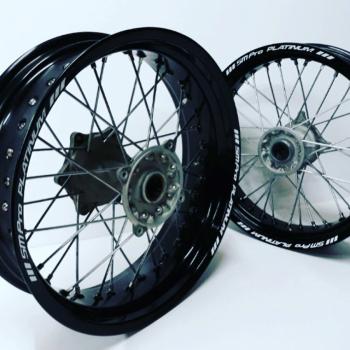 Lever uw huidige naven, of complete wielen bij ons in en laat ze ombouwen naar een mooie Supermoto wielen.
Nieuwe bulldog RVS spaken
Nieuwe nippels
Nieuwe SMPro platinum supermoto velgen.
Slecht €449,-!
Mogelijke opties:
Zwarte spaken +€35,-
Nippels in kleur +€35,-
Velgrand in kleur +€69
Uw naven gepoedercoat +€75 euro
Excel velgranden in plaats van SMPro +€200,-
Mocht uw vragen hebben of gebruik willen maken van deze service neem dan contact met ons op.