Supermoto IRC radial brake pump 16mm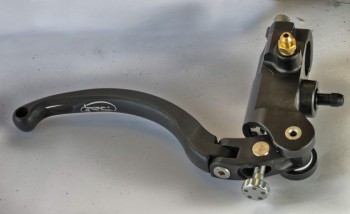 Price: € 199,00
IRC 16mm Radial brake pump.
The revolutionary brake pump that is widely used in the moto 2 and now also the moto 3.
Now available especially for the Supermoto.
Fully CNC machined and manufactured in Italy.
What is the difference with other brands?
The 16MM brake piston is equipped with an innovative Teflon ring, which means that it experiences minimal resistance and wear on the cylinder walls.
This means easier operation and less wear.
The top piston seal has a sharper edge for a better seal, so it responds directly and more brake pressure.
The brake lever is equipped with self-lubricating bushes for easy and light operation of the brake lever.
The IRC brake pump also has a TÜV homologation, making it European approved for street use.

This brake pump comes standard with the short "moto-GP" lever.