Xtrig Rocs Supermoto triple clamps Honda CRF 250 450 13 - 19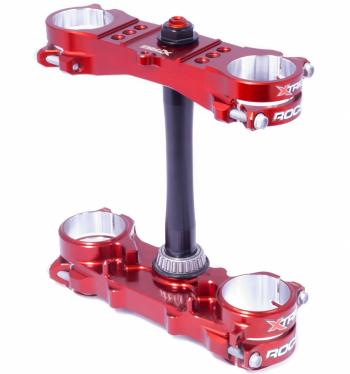 Price: € 449,00
Xtrig ROCS Supermoto triple clamps with adjustable offset of 14 mm or 16 mm
Suitable for:
Honda CRF 250 modeljaar 2014-2019
Honda CRF 450 modeljaar 2013-2019
Standard offset Honda CRF 20mm
Color: xtrig color
Please note that Xtrig control terminals must be ordered separately for this set!
The Xtrig ROCS has a lower weight and improved response of the front fork compared to the original triple clamps! In contrast to other triple clamps the Xtrig ROCS set has an easily adjustable offset and a lower total weight because it is much thinner than the original. Adjust the offset for tracks with sharp turns or for high-speed circuits.
Xtrig crown plates are developed, designed and made entirely in-house. This ensures a result that speaks for itself. Carefully tested in various simulated stressful situations, guaranteeing that the crown plates deliver the best possible performance.
The benefits with Xtrigs Rocs:
Adjustable offset.
No distortion in the front fork at the location of the clamping.
Better walking characteristics of the front fork.
The ability to see a current offset setting.
The rigidity of the set is perfectly matched for each model.
The lower headset bearing is already mounted.
Made from high-quality aluminum.
All triple clamps are supplied roadworthy, the headset bearing is already where it should be, all for the easiest possible installation. No special tools are required. All parts for assembly are included.
If you have any questions or would like to order the set, please contact us.